De New Order of Druids (of kortweg N.O.D.) is oorspronkelijk ontstaan als een "Gratis Keltische Online Gemeenschap voor zij die de Druïden weg volgen", maar is intussen uitgegroeid tot veel meer dan dat, en omvat nu ook een online Druïden school genaamd "Grove of Dana", en lokale groeperingen in de wereld. Waarom nu de naam "NEW" Order of Druids? De Druïden en hun wijsheid behoren niet enkel tot het verleden, maar zij kunnen ook onze toekomst zijn, en het Druïdisme groeit steeds met de wereld mee, altijd weer naar iets nieuw, luisterend naar de stem van de toekomst. Een Druïde orde die voortduurend naar het nieuwe toe groeit, blijft dan ook steeds "nieuw" ("New") en wordt nooit oud, versleten en afgedaan. We blijven dan ook een groeiende, dynamische en levende Druïden Cirkel, en gebruiken de wijsheid van de tijdsloze Druïden in de wereld van vandaag.
De New Order of Druids is niet specifiek mesopagan, neopagan, of gericht naar eender welke specifieke religie. We verwelkomen mensen van eender waar in de wereld, die op zoek zijn naar spirituele groei en interesse in de Keltische cultuur of de Druïden weg, ongeacht leeftijd, geslacht, huidskleur, taal of religie. Wij geloven er steevast in dat iedereen een kans in het leven verdient om te leren, te groeien, en te delen.

Lees zeker ook eens de Negen Idealen van de New Order of Druids.


WIE ZIJN WE?
De New Order of Druids is een vereniging zonder winst, voornamelijk actief via onze website, forums en chatroom, maar ook door middel van lokale groeperingen, bijeenkomsten en activiteiten. De N.O.D. hoofdzetel is gevestigd in België, maar medewerkers op allerhande vlakken (moderators, mentors, ...) zijn er in verschillende delen van de wereld. De leden in onze vereniging kunnen zowel mannelijk als vrouwelijk zijn, jong en oud. We leggen hieromtrent geen beperkingen op, ongeacht waar men woont. We hebben leden uit o.a. Europa, Amerika en Australië, en verwelkomen mensen van de ganse wereld. De bedoeling is, uiteraard, om mensen aan te trekken die interesse hebben in de spiritualiteit die we vertegenwoordigen, en dit ernstig nemen. Je kan dus Keltisch, Katholiek, Joods, Moslim of atheïst zijn, het maakt allemaal niet uit, zolang je maar openstaat.


WAT DOEN WE?
Onze Cirkel heeft drie doelen: leren, groeien en delen.
We hebben op onze website zoveel mogelijk informatie over Kelten en Druïden geplaatst, van een zowel historisch als spiritueel standpunt.
Naast de website, bieden we ook de mogelijkheden aan om via het internet te communiceren met andere leden. Dit gebeurt voornamelijk via de forums, de Druïden school en de chatroom. De chatroom is vrij voor iedereen, maar om gebruik te maken van de forums of de school dien je je wel eerst als lid in te schrijven, dit zodat we zeker zijn dat men lid wordt voor de juiste redenen. Uiteraard is dit volkomen GRATIS en zal dit ook altijd zo zijn. Daarnaast hebben we ook een betalend "upgraded" lidmaatschap dat toegang biedt tot meer uitgebreide services.


DOELSTELLINGEN
In het oude Keltische tijdperk was het gemakkelijk om een Druïde te vinden die je kon opleiden (of misschien toch niet?), maar ongeacht alle technologie die vandaag de dag ter onze beschikking staat, zijn de bestaande mogelijkheden om Druïde te worden toch nog vrij moeilijk te vinden. Er zijn uiteraard verschillende moderne Druïde organisaties in Europa, Noord Amerika en Australië, maar niet iedereen heeft de mogelijkheid om lid te worden bij één van hen, dikwijls omwille van te grote aftstanden of religieuze overtuigingen van de andere gezinsleden. Het is gewoonlijk de nieuwsgierige tiener, bijvoorbeeld, die zijn of haar innerlijke weg wil ontdekken, en hierin weerhouden wordt door de ouders - omdat velen nog steeds denken dat Druïden duivelaanbidders zijn die mensen en dieren opofferen, wat uiteraard niet het geval is. Zulke mensen hebben dan alternatieven zoals boeken, of studie-pakketten die sommige Druïden organisaties aanbieden via de post of online, maar dan komen we bij het probleem van geld. Niet iedereen heeft het nodige geld om lidgelden, cursussen of workshops te betalen, of om vele boeken aan te kopen. Bij de New Order of Druids stellen we onszelf de vraag: is het juist dat zij die de middelen niet hebben, voor welke reden dan ook, de kans om iets bij te leren ontzegd moeten worden? Kan er eigenlijk een prijs geplakt worden voor echte wijsheid?

Het concept van de New Order of Druids was opgericht door David Dom (België) in 2002, en werd geopend op 1 februari 2003. De fundamentele ideeën waarop we onze vereniging baseerden, is het aanbieden van een geheel gratis alternatief voor de mensen via het internet, met de drie hoofddoelstellingen: leren, groeien en delen.

De New Order of Druids (kortweg N.O.D.) is dus eigenlijk een online gemeenschap voor mensen van alle leeftijden jong en oud, voor zowel mannen als vrouwen, ongeacht waar je woont. Leden zijn uiteraard vrij om ook lid te worden van andere Druïde organisaties, en zowel nieuwkomers als ervaren mensen in het Druïdisme zijn welkom. De N.O.D. kan geen mesopaganistische noch een neopaganistische stempel gegeven worden, omdat mensen van alle wegen welkom zijn, en aangemoedigd worden om hun eigen pad te volgen. In plaats van een abstracte weg te volgen, of onze Cirkel te baseren op een abstract verleden, trachten we de Keltische cultuur te eren en haar echte spiritualiteit te ontdekken. Uiteraard zijn de leden vrij om hun eigen religieuze overtuigingen te volgen, zoals Christenen, Joden, Moslims of zelfs atheïsten, en deze vrijheid zal worden gerespecteerd door onze leden - omdat we op zoek zijn naar overeenkomsten, niet naar verschillen. Onze hoogste prioriteit binnen onze orde is het eren van de vrije wil van het individu, en dat van de orde.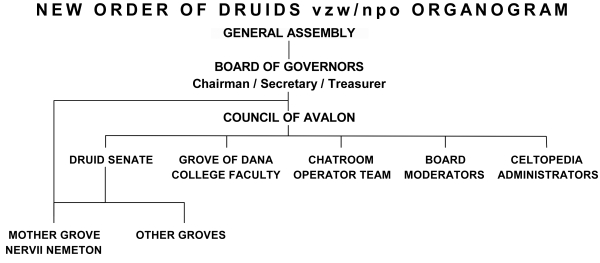 DE ALGEMENE VERGADERING EN RAAD VAN BESTUUR
De Raad van Bestuur bestaat uit drie leden, die het "hoofdkwartier" vormen van N.O.D. in België. Deze drie leden zijn cruciaal voor het oprichten van een vereniging zonder winstoogmerk volgens de Belgische wetgeving. Alle drie, plus twee anderen, vormen ook de Algemene Vergadering.

VOORZITTER: David Dom
PENNINGMEESTER: Jenni Heiden
SECRETARIS: Christine Verbiest
ANDERE LEDEN ALGEMENE VERGADERING: Bart Piette, Elke Thomas, Lily Demuynck


DE HIGH COUNCIL
De Council wordt gevormd door leden van de New Order of Druids, die samenwerken om de kwaliteit van de diensten voor onze leden steeds te optimaliseren, en om beslissingen te nemen waar nodig. Deze leden zijn daarom niet altijd Druïden, sommige zijn ook Barde of Ovaat, zowel mannen als vrouwen van verschillende delen uit de wereld, sommige zijn nog vrij jong en anderen al wat ouder. De intentie van de Council is het begeleiden van de Cirkel, en soms beslissingen treffen ten voordele van de leden. Haar intentie is niet om te "regeren", maar om te begeleiden en te dienen, waar en wanneer nodig. De Council houdt zich vooral bezig met het online-gedeelte van N.O.D.


DE DRUÏDENSENAAT
De Druïdensenaat bestaat uit de verschillende leiders van de lokale nemetons van de New Order of Druids. De Druïdensenaat werd opgericht om communicatie en samenwerking te bevorderen tussen de verschillende lokale nemetons.


DE GROVE OF DANA ONLINE DRUÏDENSCHOOL
De school wordt draaiende gehouden door de coördinatoren, die ook deel uitmaken van de Council. Zij zorgen voor de praktische implementatie van de cursussen en andere beslissingen betreffende de school. Ze werken samen in een team met de mentoren, en nemen de nodige beslissingen om de studenten een zo positief mogelijke ervaring te bezorgen.


DE GESCHIEDENIS VAN DE NEW ORDER OF DRUIDS
Het is eigenlijk allemaal vrij simpel begonnen, met een website genaamd "Gate to Avalon", opgestart door David Dom (Phoenix) uit België, en Jean-Claude Pretre (Myrrdin) uit Frankrijk, op 16 augustus 2002. Gate to Avalon was niet meer dan een eenvoudige en kleine Keltische website met slechts beperkte informatie. Het zou zo'n vier maanden duren, tot de website uitgegroeid was in iets meer: een gemeenschap. David had de roeping gehoord om mensen met dezelfde interesse bij elkaar te brengen, een taak die de Goden hem gegeven hadden, hoewel hij dit niet begreep tot vele jaren later. De gemeenschap was gelanceerd op 24 januari 2003 en geopend op 1 februari 2003, en kort daarna begonnen de eerste leden toe te stromen. Bij deze eerste leden was o.a. Jason Kirkey (Awenydd / Solasdana / Idircheo) van Massachusetts, Verenigde Staten, die zijn diensten aanbood om de organisatie te helpen met het opzetten van een gratis training cursus voor mensen, op 3 mei 2003. Zijn werk zou vitaal blijken te zijn voor het ganse project.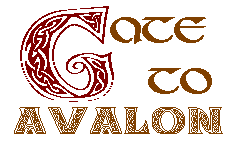 De gemeenschap bleef groeien, en meer en meer mensen vonden hun weg naar de Gate to Avalon. Al gauw werd het duidelijk dat de gemeenschap een betere structuur nodig had, en op 11 juni 2003 was de eigenlijke "Druïden Cirkel" officieel opgericht met het opstarten van de "High Council" (de Hoge Raad), bestaande uit Phoenix, Myrrdin, Awenydd en Teperis. Minder dan een jaar later na de oorspronkelijke start van de gemeenschap, de Cirkel was gegroeid tot de "New Order of Druids" met haar eigen domeinnaam "druidcircle.net" op 23 februari 2004.

30 mei 2004 was de datum dat de geboorte van de online Druïden school, de "Grove of Dana" zag. Een geheel nieuw systeem werd geinstalleerd op de server om daarmee de school te runnen, en een gehele "Bardic Course" werd geschreven door Awenydd.

Op 2 september 2005 vond de eerste bijeenkomst van de "Nervii Nemeton" plaats, de moedergroep (Mother Grove) van de N.O.D., in een pub genaamd Celtic Ireland in Antwerpen, België, waar de moedergroep dan ook spiritueel is opgericht. Twee weken later, op 17 september, werd de nieuwe website van N.O.D. gelanceerd, en op 27 mei 2006 werd de vereniging als vzw een feit!


OFFICIËLE INFORMATIE

New Order of Druids VZW
Bankrekeningnummer: 779-5939906-48
IBAN: BE11 7795 9399 0648
BIC: GKCCBEBB
Bank: Belfius Bank sa/nv, Pachecolaan 44, 1000 Brussel, Belgium


Link naar de N.O.D. Statuten
Link naar het Huishoudelijk Reglement


Klik hier voor het New Order of Druids logo